Is Gorilla Trekking Worth it's Costs
Is Gorilla Trekking Worth it's Costs.  i must say Gorilla trekking is the most expensive tourism activity in both Uganda and Rwanda that shouldn't be missed on an African safari because it's an exceptional experience. Mountain gorillas are so rare in that they can only be found in only three African countries in the whole world and these are Uganda, Rwanda and Democratic Republic of Congo.
According to the recent mountain gorilla population census conducted, there are 1,063 mountain gorillas left in the word and they are multiplying at a rate of 3.7 percent a year. They only survive in their natural habitats which are mountainous areas of Bwindi impenetrable national park, Mgahinga national park, Volcanoes national park and Virunga national park in DR Congo.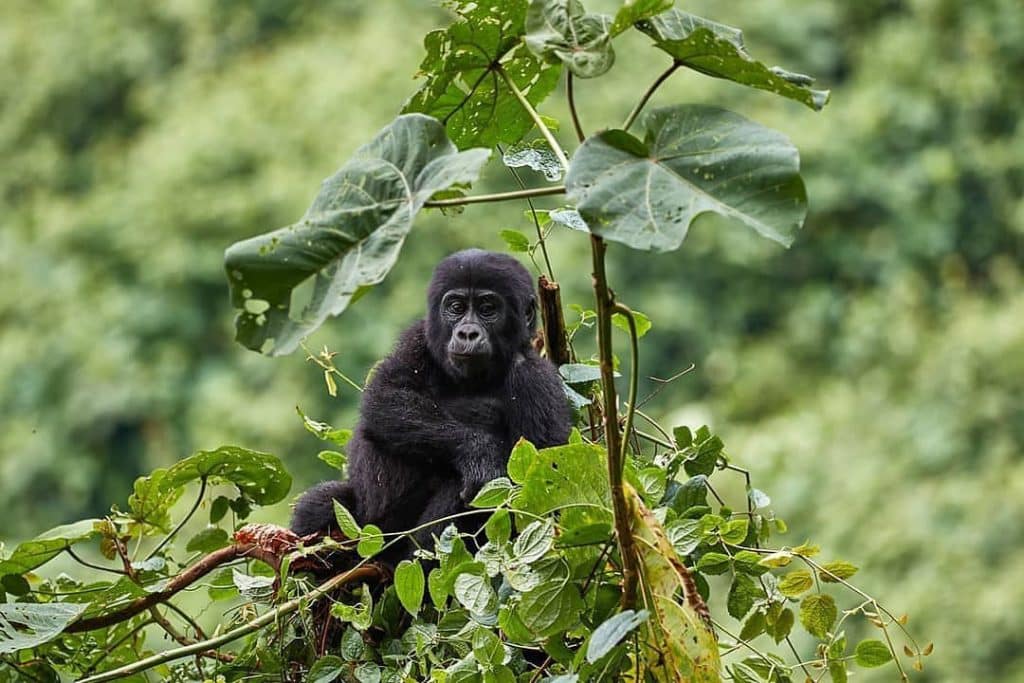 Mountain gorillas do live in the mountainous regions of east and central Africa which were highly affected by underground forces resulting into Mountains, valleys, lava dammed lakes lakes, waterfalls and many other geological features.
Therefore our visitors are the ones who are supposed to go to these areas where mountain gorillas are found to track them since they only survive in mountainous areas of central and east Africa. Our visitors should be physically fit and with good health to track the mountain gorillas since it requires a lot of energy, time and patience.
Visitors should also expect discomfort during the trek since you hike through the forest with thorny bushes, insects, muddy and slippery trails but you stop regretting the moment you set your eyes on a gorilla family.
Cost of Gorilla Trekking Permit
Gorilla permits are cards issued by Uganda Wildlife Authority and Rwanda Development board to allow visitors go for either gorilla trekking or gorilla habituation depending on the visitors' choice.
They are issued after doing the payments therefore our clients are requested to book with us in advance so that we secure for them gorilla permits.
This is because of the high competition for gorilla permits with other tour companies and the limitation of trackers by Uganda wildlife authority. Visitors can either go for gorilla trekking or habituation depending on their choice.
Uganda's Gorilla Trekking Permit
The current cost for gorilla trekking in Uganda is 600$ for foreign nonresidents and 500$ for foreign residents but effectively from 1st July, a gorilla trekking permit will cost 700$ for foreign residents and 600$ for foreign residents.
The gorilla habituation permit costs 1500$ and it's price was not increased.
Rwanda's Gorilla Tracking Permit
In Rwanda, gorilla permit costs 1500$. Time to spend with the mountain gorillas is 1 Hour, Visitors who come to Uganda and Rwanda have a choice to choose between gorilla trekking and gorilla habituation.
The duration for gorilla trekking is one hour from the time you set your eyes on the mountain gorilla family and four hours with the gorilla habituation.
Gorilla Trekking Africa
The one hour with the mountain gorillas is to observe their social behaviors like grooming, playing, picking insects from their bodies, mating and trackers are free to take photos, capturing videos and asking the guides questions.
During the trekking, you will also come across other wildlife like birds, wild animals, and a variety of plant species.
Gorilla Habituation Experience.
Gorilla habituation gives our visitors a chance to spend 4 hours with the mountain gorillas from the time you set your eyes on a gorilla family.
The activity is only done in Rushaga sector in Bwindi Impenetrable national park and Volcanoes national park in Rwanda.
Visitors go with the researchers, scientists and rangers to visit the mountain gorillas and visitors can ask all questions they want, take photos and even record videos.
Visitors participate in the process of making mountain gorillas get used to human presence since they go to see semi habituated gorillas.
Why Is Gorilla Trekking Worth it's Costs ?
The mountain gorillas are so amazing to see when they are close to you. They have human like characters like grooming each other, feeding their young ones, playing with their young ones and the silverback s have a role of protecting their families.
Some tourists have come to Africa more than once to track mountain gorillas and this because they are amazing to see. They do have human like characters and their social interaction is enjoyable to see. In fact some track both in Uganda and Rwanda.
The silverback gorilla is so amazing to see because of its uniqueness. It has a silver stripe on its back it gets when developing into adulthood. Silverbacks are also big in size compared other members of the family.
The guides, trackers and the rangers have a lot of experience and knowledge about the mountain gorillas therefore our visitors should feel free to ask questions they want.
Mountain gorilla trekking is an activity which benefits the local communities around the mountain gorilla habitat. For example porters who help some visitors during mountain gorilla trekking are paid money which is a source of income to them hence improving their standards of living.
The 20% of revenue collected by the national park goes back to the communities around the park. It is used to set up projects which can generate income to the local people around national parks and also provide social services to the people like free education, medical services and many others.
There has been an increase in the number of visitors coming both in Uganda and Rwanda to track mountain gorillas because these gentle creatures are so interesting to see as they do their daily activities.
Part of the gorilla permit fee is also used to fund some conservation projects like sensitization of the local communities to realize the importance of the national park to them.
The revenue is also used to protect the Batwa (original people) of the ancient Bwindi Impenetrable forest.
In conclusion, gorilla trekking is the best wildlife experience you shouldn't forget to include on an African safari because the experience is worth it even though it's fee is a bit much.