The Best Time of the Year to Visit Uganda
The Best Time to Visit Uganda so as to enjoys a unique location at the heart of Sub-Saharan Africa within the East African region which lies astride the equator making it pleasant warm and tropical climate with insignificant seasonal variations, making it good to visit year round.
The country is bordered by Sudan in the north, Kenya in the east, the United Republic of Tanzania in the south, Rwanda in the southwest and the Democratic Republic of Congo in the west. This land linked position for good climate which you can visit all year around
Average temperatures in Uganda are around 21.5°C or 71°F, dropping to a minimum of 12°C or 54°F at night time, with altitude also affecting this. Being on the equator, rainfall ranges between 1,000 and 2,000 millimeters each year, but depending on time of year these can be short bursts which give rise to clearer skies.
Uganda has two variation season which makes it best place to visit all year around; the Dry season and Wet season this makes you Uganda an ideal place to visit during your safari in Africa.
The Dry seasons from June, July, August-Mid September and December to February this are the best month to visit Uganda
During this season, it is a fantastic time for both gorilla trekking and game viewing. Dry ground underfoot makes walking easy and despite being the dry season of the year, trekking in Bwindi forest can be comfortable due to the altitude providing cooler temperatures.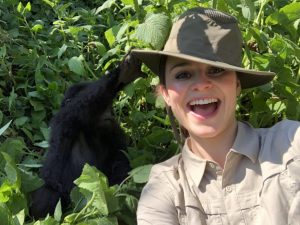 As Uganda's climate is tropical it is possible that there will be some rainfall, but these are unlikely to affect your game activities, and gorilla treks will still be undertaken. Uganda's equatorial temperatures generally range from 17-28C throughout the year but figures in the mountainous regions and during the evenings may drop to around 13C.
The Dry season means that all 10 National Parks are accessible enabling you to witness everything that this amazing country has to offer. Meaning that dry season is the peak season, prices will be higher and gorilla permits will need to be booked well in advance like 6 months ago.
However, one of the benefits of Uganda, as opposed to some other African destinations, is that the parks rarely feel busy or overcrowded allowing you intimate wildlife encounters and unforgettable experiences. Some hotels and lodges near this attraction place may fill up fast during the peak season so book early secure your space at your preferred accommodation.
Visiting Uganda in dry season is easier to spot wildlife in the game reserves say elephants, lions, leopard Buffalo and so on. During this season, all of the country's National Parks are at their best at this time. Queen Elizabeth National Park to see the big five and then on to Bwindi National Park to track gorillas.
The wet season from March, April, May and September to November
During this wet season, Uganda tends to have much rain throughout the country. However, this does not mean that Uganda is completely off limits. Although none of the parks are at their optimum during this time, there will be plenty of opportunity for wildlife sightings and as this month lies outside of the peak season, prices are likely to be lower and there will be plenty of availability at a wide selection of lodges.
The wet season rainfall is unlikely to perpetuate throughout the day and skies will brighten up after a downpour. Therefore you will still have plenty of time to explore and relax during your safari.
The long rains of March and April continue into May so this month is not considered the best time to travel. However, if you're not too worried about experiencing some rain during your trip it can be a lovely time to explore Uganda. Landscapes will be lush and verdant after months of rain which may make wildlife more difficult to see, but the vegetation will create stunning backdrops for photography.
There are wetter months that make certain plans and activities somewhat trickier which are worth factoring into your planning.
November the best bird watching season (November – April) as migratory birds arrive.
Uganda is known for over 1100 bird species so if this is something that you are particularly interested in, please do tell your guides and they will be able to point out some unique species. The climate at Murchison Falls is steady year-round so a visit to see the Nile and the impressive falls is a great add on your safari.